CONGRATS to our two golfers-- Gracie and Kayla on medaling in their first tourney of the year!!!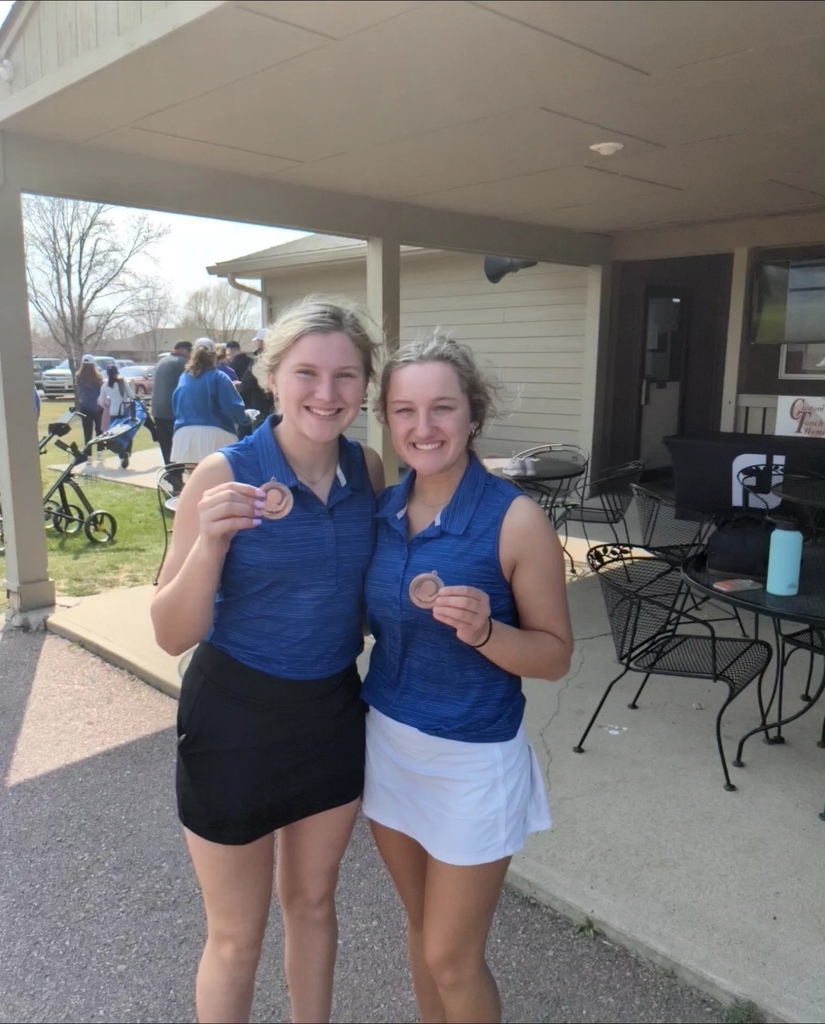 Girls' Golf competing in Mitchell today!! It was a fun day of competition.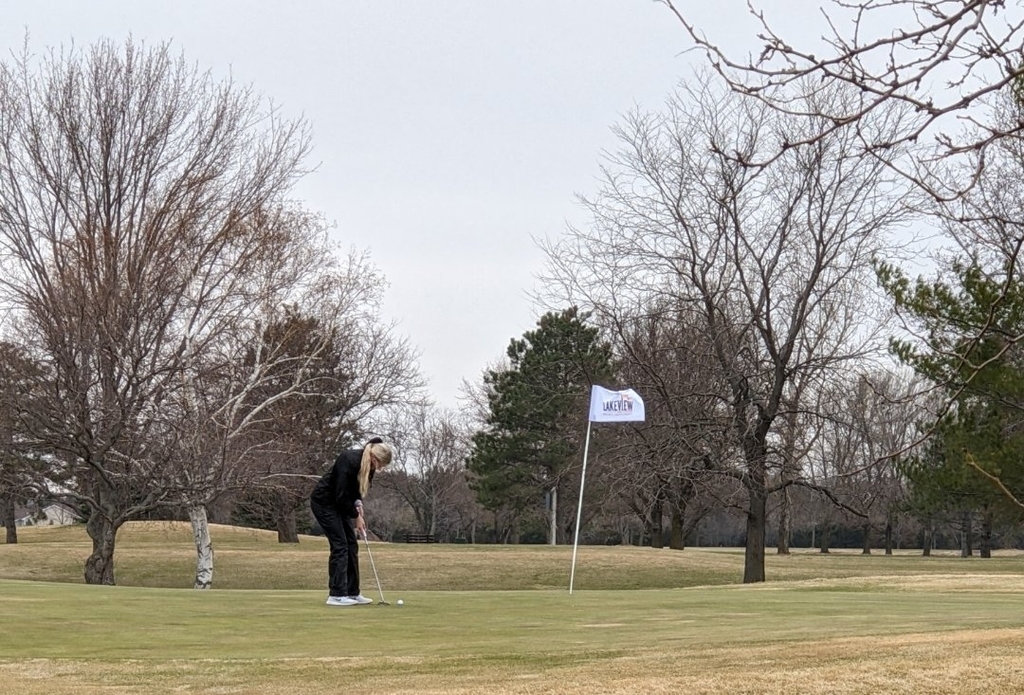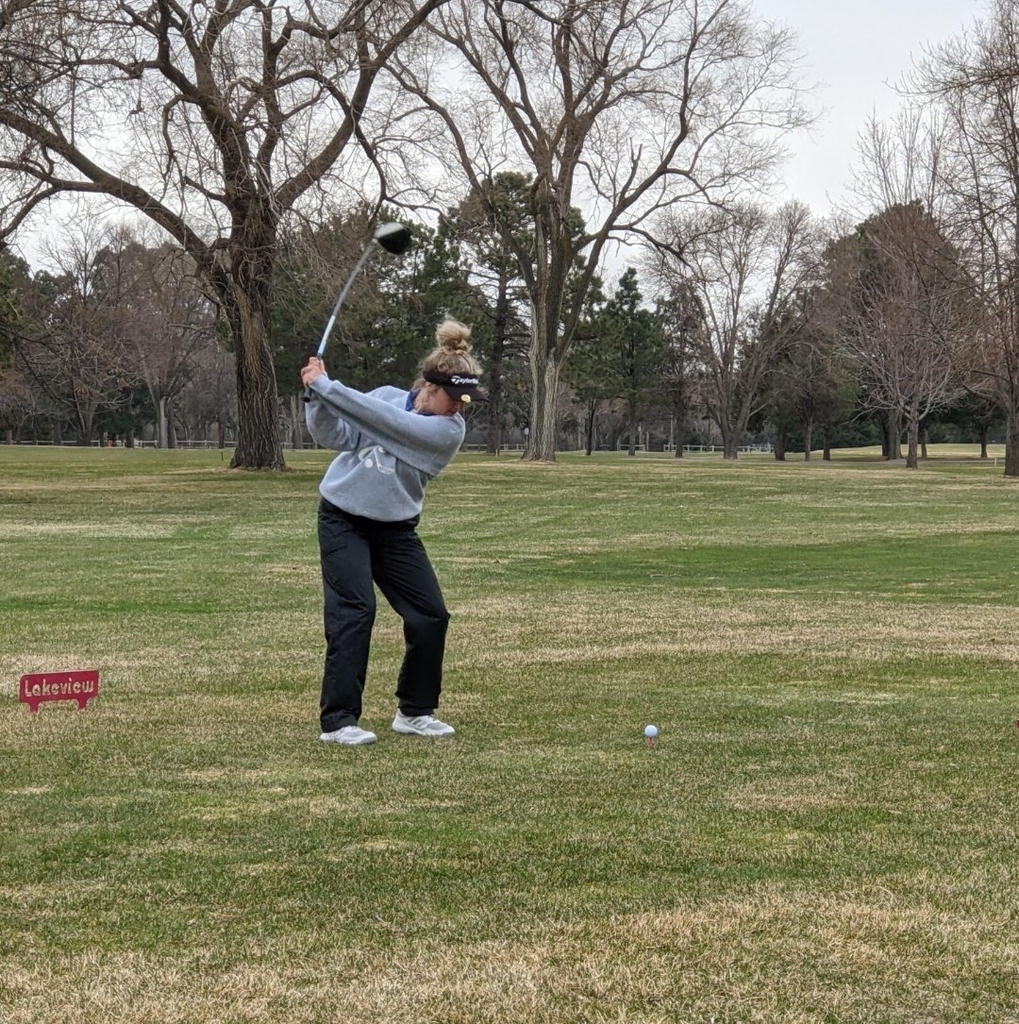 The April 28th Heart Screening date has filled up, but wait! A second date has been added. Screening America will be here again on Tuesday, May 3rd to conduct heart screenings. There are only 15 spots left! Please contact Carmen Bartells at
carmen.bartells@k12.sd.us
or by calling the school (605-928-3368) if you have questions or want to sign your child up (ages 11-19).
Join us Friday evening to see "The March Hare's Tale" in the MPR! This group has worked hard and are looking forward to building our drama department back up over the next few years! Please come and show your support to this young cast and crew! One night only!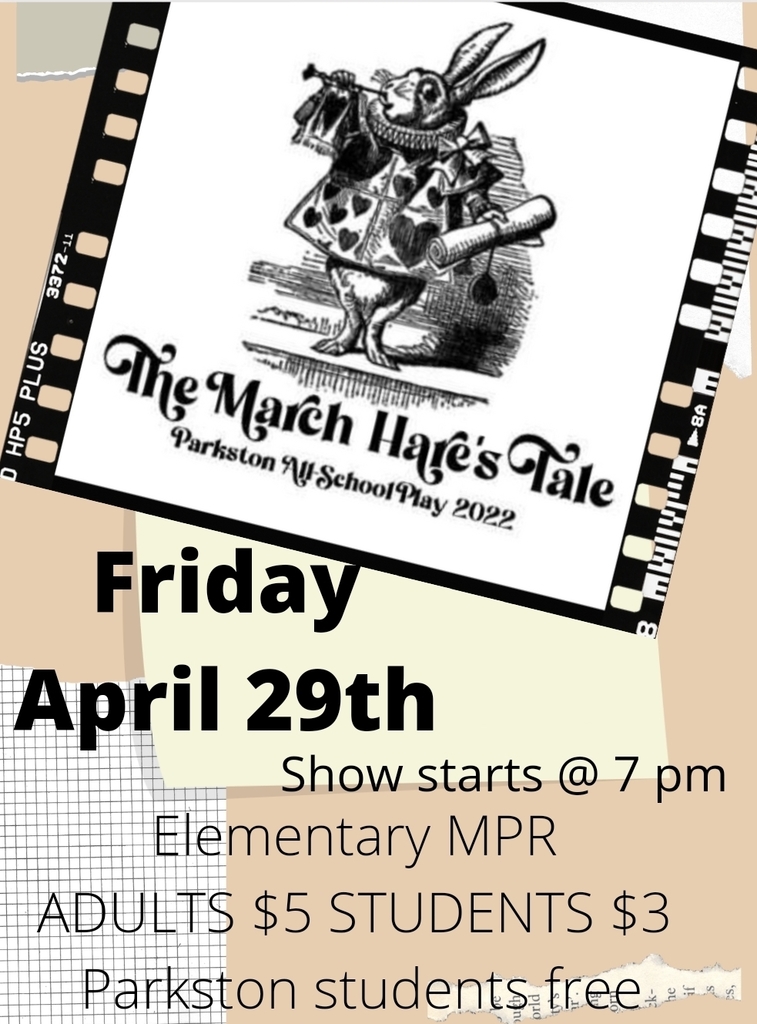 Reminder to 5th and 6th grade parents and students. We will be having an informational meeting on the middle school move tomorrow (Thursday 4/21) in the Armory at 6:30. Hope to see you all there!!

Due to anctipated wind and cold-- the track meet scheduled for tomorrow in Bon Homme has been cancelled.
Happy Monday! Here's hoping you all had a blessed Easter! The Cheerleaders have some pies left! Cost is $16 per pie. * Cherry -1 * Berry Medley - 4 * Blueberry - 3 HOSA has some Christian Kropf items left. Cost is discounted to $5 per jar. * Monkey Butter (Banana w/ Pineapple) - 1 * Mango Jam - 1 * Apple Pecan Butter - 1 * Muscadine Jam - 1 * Bacon Salsa - 3 * Key Lime Jelly - 4 * Cherry Jam - 2 * Four Pepper Salsa (Med) - 2 * Salsa Verde (Med) - 2 * GATOR (Grape, Apple, Tangerine, Orange, Raspberry) Jam - 2 Email
carmen.bartells@k12.sd.us
. First come, first serve! Thank you for all of your support through the school year!
These high school students have fun applying their knowledge of geometric constructions by creating artistic designs. "Is this really math?" they ask,--YES! It's GEOMETRY!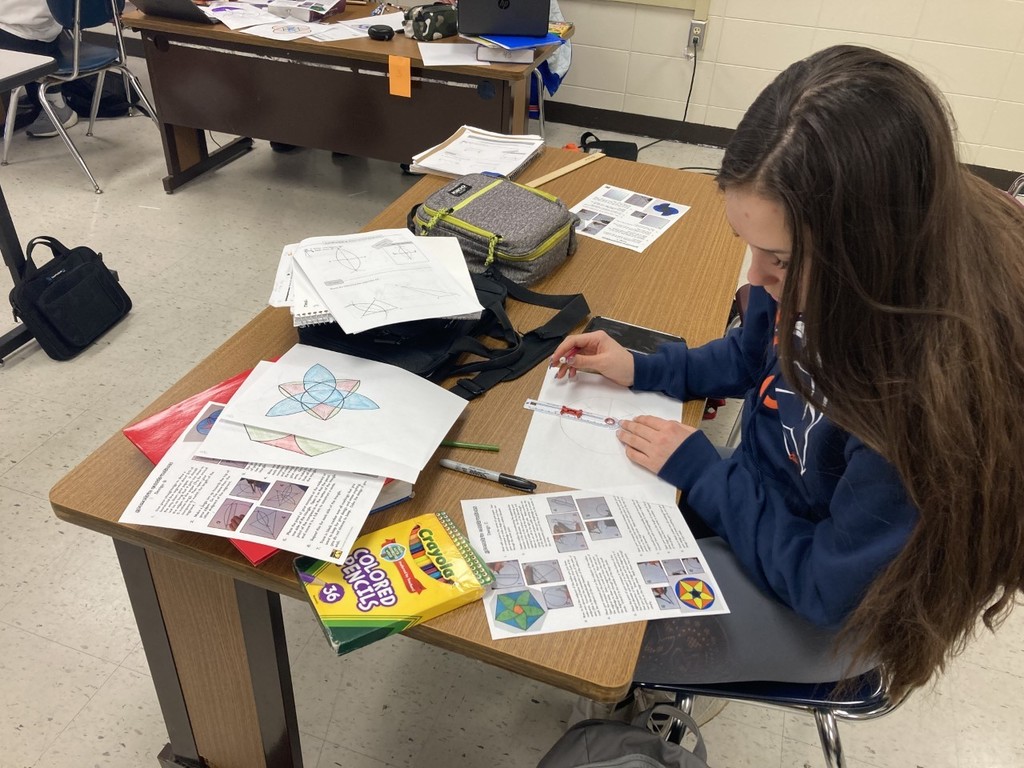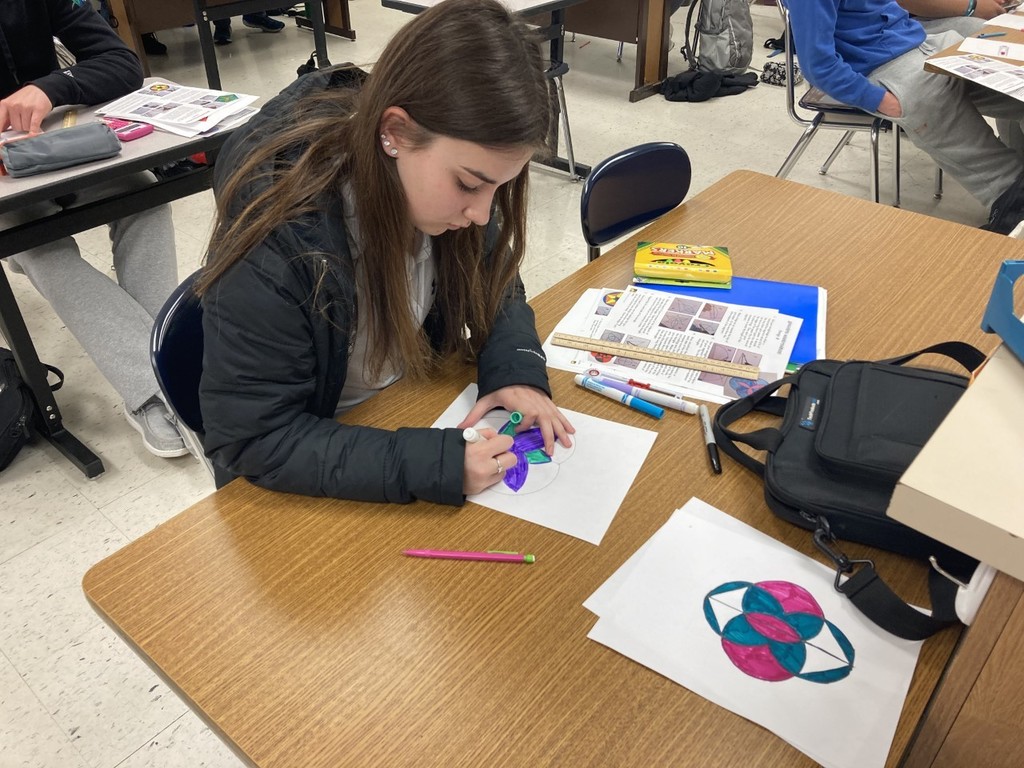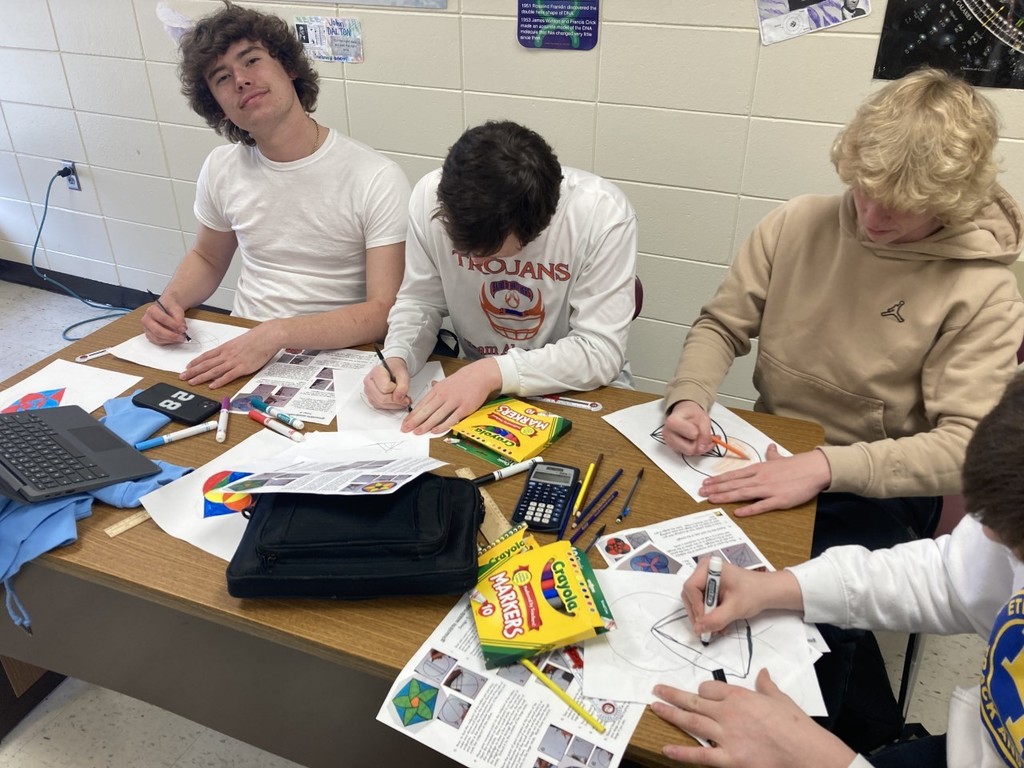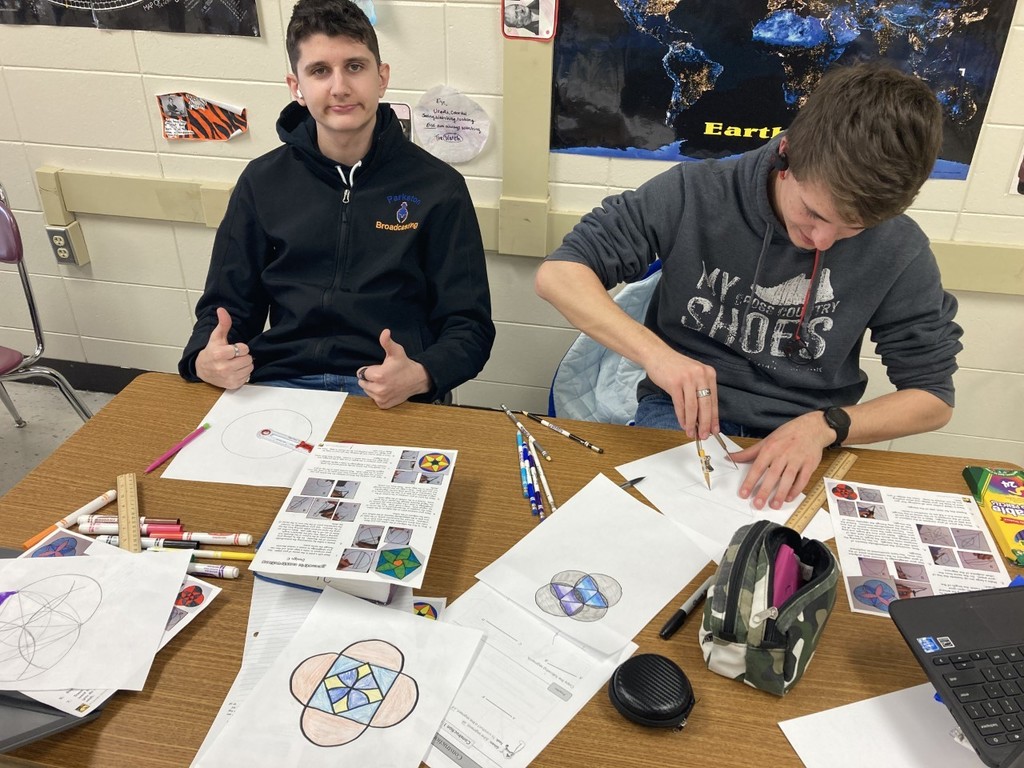 Screening America will be here Thursday, April 28 to perform heart screenings on any young person ages 11-34. Each heart screening includes: a heart ultrasound, 12 Lead EKG, Bilateral Blood Pressure, Health History Evaluation, Evaluation for Marfan Syndrome, and a Board-Certified Cardiologist Review. Please contact Carmen Bartells at
carmen.bartells@k12.sd.us
or by calling the school (605-928-3368) to sign up. Please know that when times fill up for the April 28th date, a second date will scheduled to accomodate interested indidivuals. Parkston HOSA would like to help cover the cost of this screening ($89) for our Parkston students. The cost to the family for this screening will be determined after sign-ups are done and the schedule is made.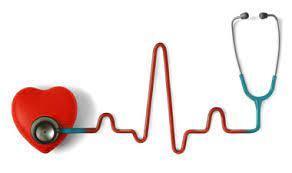 CONGRATULATIONS to Allison Ziebart on signing her letter of intent to compete in Track and Field for SDSU!!!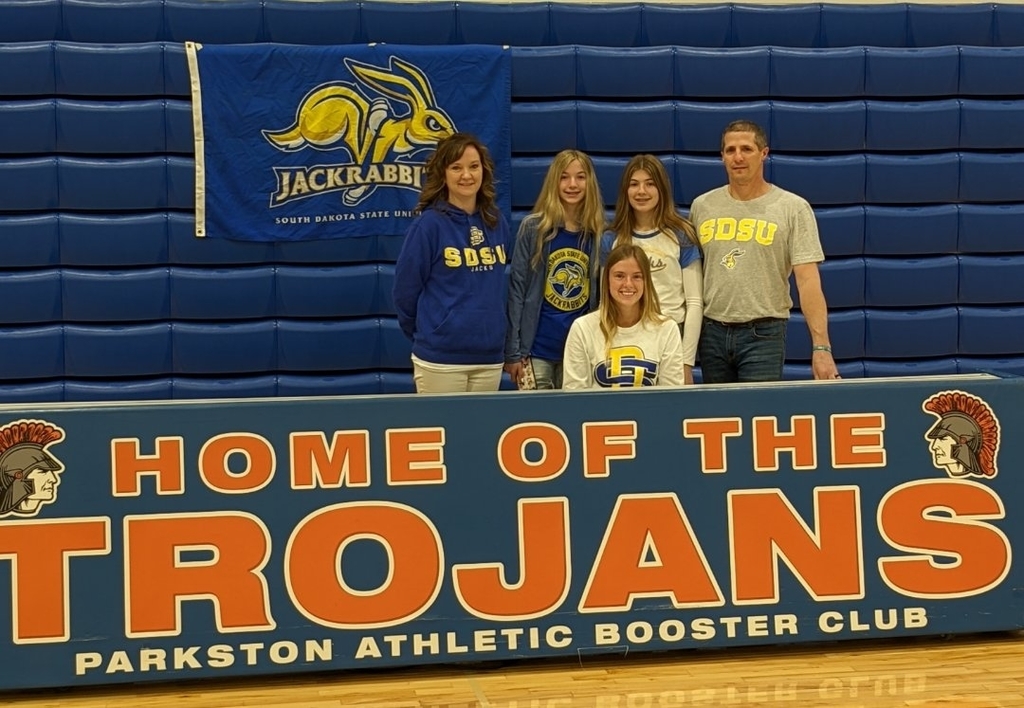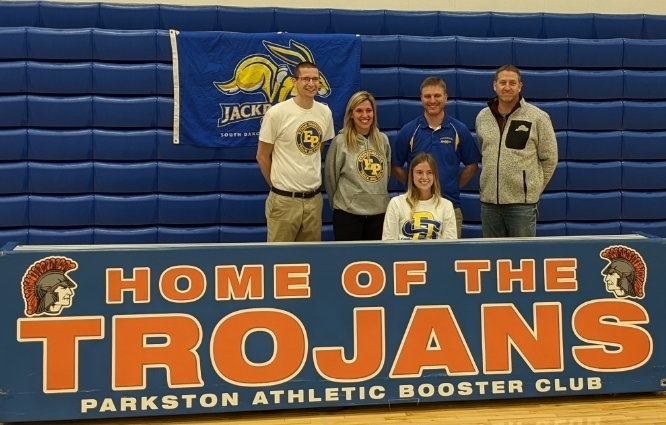 With cold temperatures and high winds forecasted for Thursday, the Corn Palace Relays have been cancelled.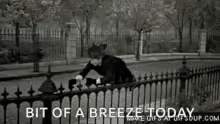 FCCLA State Meeting Results! Well done to the Parkston FCCLA Chapter, you represented our school very well! National Qualifiers: Food Innovations: Amber Hoff, Kiauna Hargens, Kenna Konfrst Professional Presentation: Elle Goehring, Elyssa Bartelt Chapter Service Project: Amedea Luikens Teach & Train: Taryn Lentsch Chapter Website: Jackie Braley, Abby Hohn Top Superiors Scores: National Programs in Action: Alivia Royston, Alivia Stirling, Rory Juhnke, Alyssa Weisz Repurpose & Redesign: Jayden Digmann, Hayden Mette, Joseph Hopkins Professional Presentation: Keeara Oakley, Carlie Hobbick, Allison Ostrander, Isabel Leischner Chapter in Review: Kennedy Heidinger, Faith Oakley Job Interview: Kacy Goehring Career Investigation: Cadence Juhnke Gold Scores: Professional Presentation: Grady Bower, Reco Muilenburg, Lizzy Schoenfelder, Morgan Maxwell, Berkley Ziebart Silver Scores: Professional Presentation: Karlie Konfrst, Trinity Luikens, Brycen Bruening, Trey Boettcher, Gage Jodozi, Mason Jervik, Alexis Holzbauer, Kendall Herrmann, Gavin Weber, Alex Ganley Repurpose & Redesign: Allie Hobbick, MacKenzie Titze Bronze Scores: Professional Presentation: Sergio Brakie Leadership Team Selection: Cadence Juhnke, Current Trends Team Spirit of Advising Award: Mrs. Kafka Merit Chapter Award: Parkston Chapter Region III Top Honors: Parkston Chapter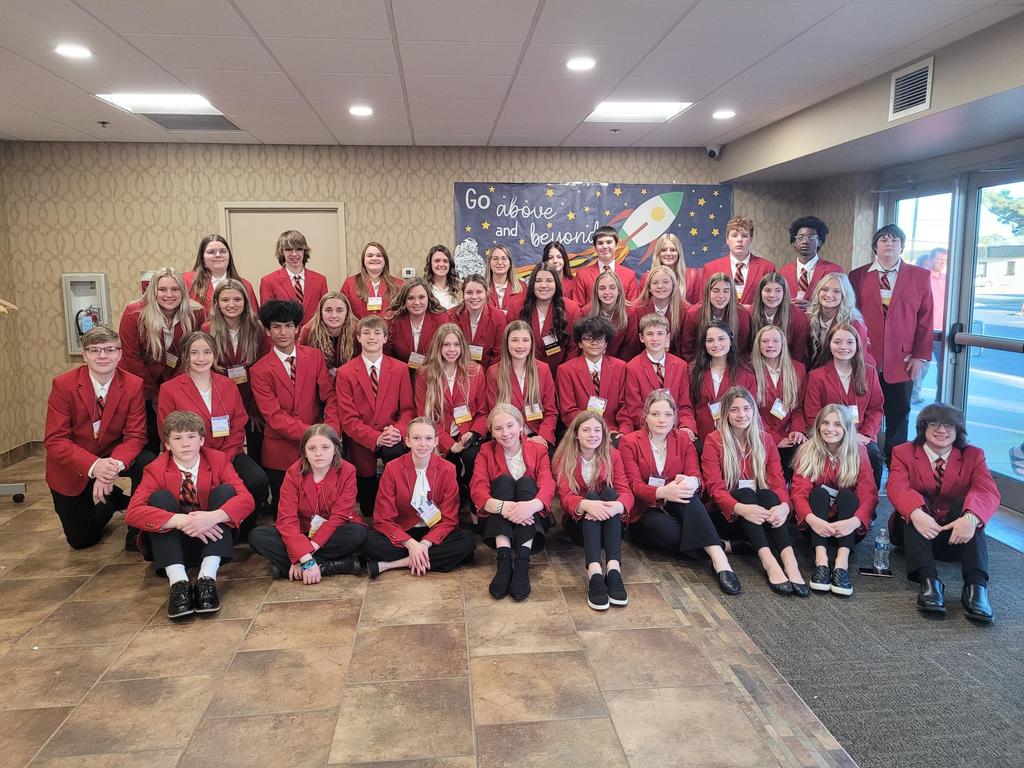 Prom picture order link is now open until friday!! get your orders in before it closes Online Ordering Open Tuesday, April 12th through Friday, April 15th Ordering Site:
www.twistedwiredesign.com/proofing
Password: parkstonprom Portraits will be delivered to the school 2 weeks after ordering. Thank you! Twisted Wire Design - 605-990-4101 -
info@twistedwiredesign.com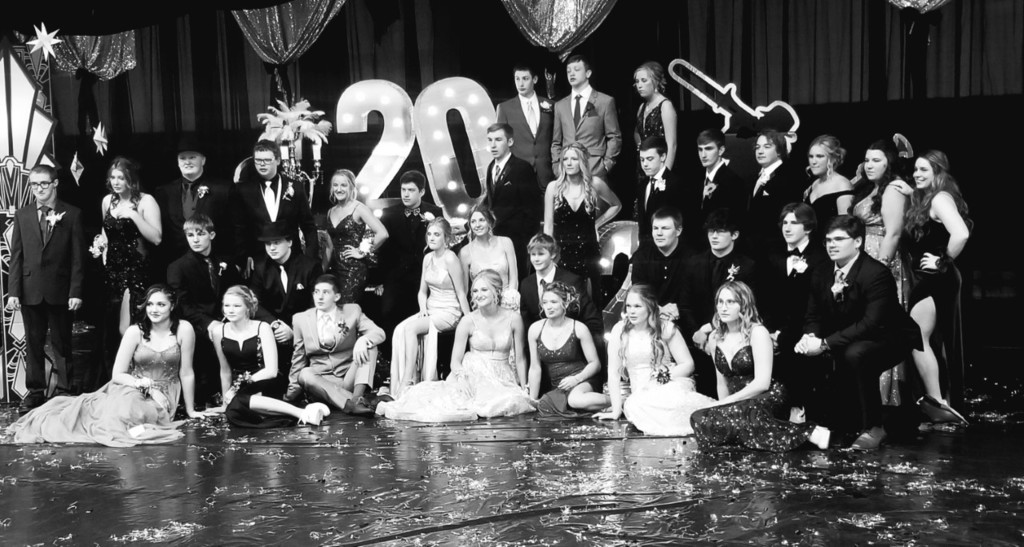 Happy Monday! Today's the last day to get your tickets in advance for $7 for the Dairyland Donkeyball show tomorrow night at the Parkston Armory at 7:00 PM! Tickets are available at both school offices, Parkston Food Center and Parkston's Farmers State Bank. Tickets will also be available at the door for $10. Come support the HOSA members in their quest to raise money to help pay for heart screenings for our youth, ages 11-19. Come join the fun! A huge shout out to our sponsors! Parkston-Kaylor Grain & Feed GF Advertising Maxwell & Bowar Parkston Food Center Kramer Chiropractic Avera St. Benedict Health Center Agland Coop Statewide Ag Parkston Dental Center Wolf's Auto/Truck Repair MDS Manufacturing Parktson Drug Kenzie's DBA Fronteir Agri-business Dimock Dairy Farmers State Bank Tracy's Paint & Body, Inc Dynamic Chiropractic Wenzel Insurance Muth Electric Parkston Properties
We will start broadcasting at 2:30 PM when they start taking pictures in the National Guard Armory. Watch on Channel 101 or at
www.trojansportslive.com
Prom Picture time sign ups! in case your student forgot what time and needs a reminder!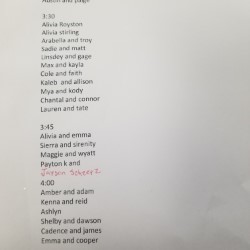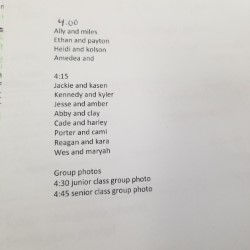 CONGRATULATIONS to our 3rd, 4th, & 5th graders on an AWESOME show tonight!!! I was blown away by all the talent that was on the stage!! The future of our music program is very bright!!! #TROJANPRIDE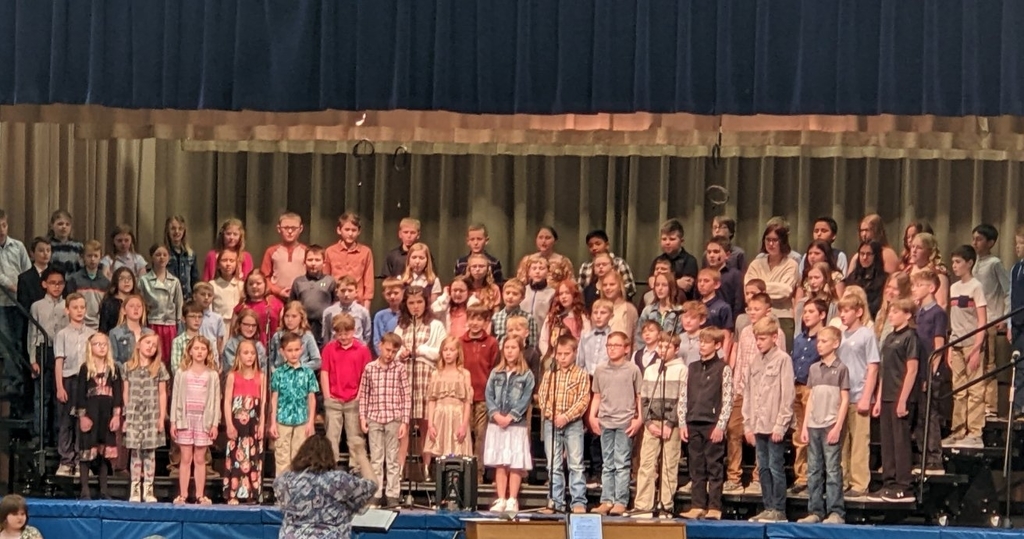 Want to win TWO FREE TICKETS to next week's Donkeyball Basketball game at the Parkston Armory?!?! Email
carmen.bartells@k12.sd.us
with the answer to the question below by 9:00 AM Monday morning (4/11) to be entered into a drawing!! The winner can pick their tickets up at the door at the event on Tuesday April 12th! Show starts at 7:00 PM! (Note: Riders and preschool and younger get in free!) Where do this year's Parkston HOSA members who medaled at the 2022 State Conference get to go to compete for the International Leadership Conference this summer in June?
Prom picture ordering link!!! you will be able to view pictures shortly after prom! We are looking forward to another year of beautiful prom portraits in Parkston! Below is ordering information and links, please let us know if you have any questions. Thank you! Online Ordering Open Tuesday, April 12th through Friday, April 15th Ordering Site:
www.twistedwiredesign.com/proofing
Password: parkstonprom Portraits will be delivered to the school 2 weeks after ordering. Thank you! Twisted Wire Design - 605-990-4101 -
info@twistedwiredesign.com